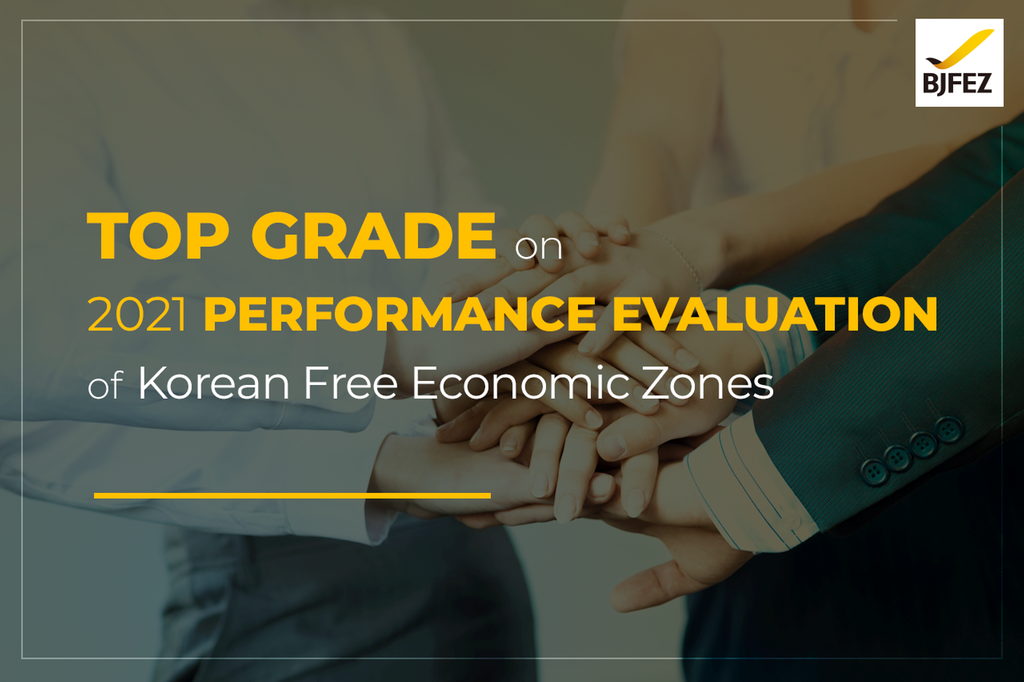 2021 Performance Evaluation of KFEZ
BJFEZ Earns the Best Performance Rating!
---
BJFEZ earned the top grade 'S' on the 2021 Performance Evaluation of Korean Free Economic Zones conducted by the Ministry of Trade, Industry and Energy.
---
The <Performance Evaluation of Korean Free Economic Zones> is an annual evaluation for every Free Economic Zone in Korea on the previous year's performance conducted by the Ministry of Trade, Industry and Energy.
The evaluation divides into four major categories.
◆ Investment Attraction
◆ Growth
◆ Management
◆ Land Development
---
Regarding investment attraction, BJFEZ received a high evaluation for its excellence in establishing and implementing strategic investment attraction plans for attracting a) anchor companies to foster integrated industrial complexes and b) R&D centers. Based on this detailed strategic move, BJFEZ recorded attracting foreign investment of 292 million US dollars despite the economic shrinkage derived from the prolonged COVID19.
Furthermore, BJFEZ's efforts for the innovative growth of the Free Economic Zone counted. Some examples are as followings: a) Establishing the customized support base according to tenant companies' demands and offering technical consultation and educational programs by forming and operating the Industry-University-Research Committee in Shipbuilding Equipment and Automobile Parts industries b) Easing restrictions to attract anchor companies and global logistics companies utilizing various related institutions.
BJFEZ also advanced the development status for delayed districts within the Zone compared to the previous year and developed the logistics cluster in two of BJFEZ's districts―International Logistics Industrial District and Ungdong District― securing the region's competitiveness.
Strengthening the foundation for innovative growth associated with government policies was crucial for this notable grade. We reformed the organization to develop and implement strategies for BJFEZ and focus each department's capabilities on adequate tasks to maximize performance. Based on our efforts and achievements, we will do our best to make BJFEZ grow into a center of high-value-added complex logistics and global high-tech industries in line with the construction of Gadeok International Airport and Jinhae New Port.
Kim, Ki-Young, Commissioner of BJFEZ