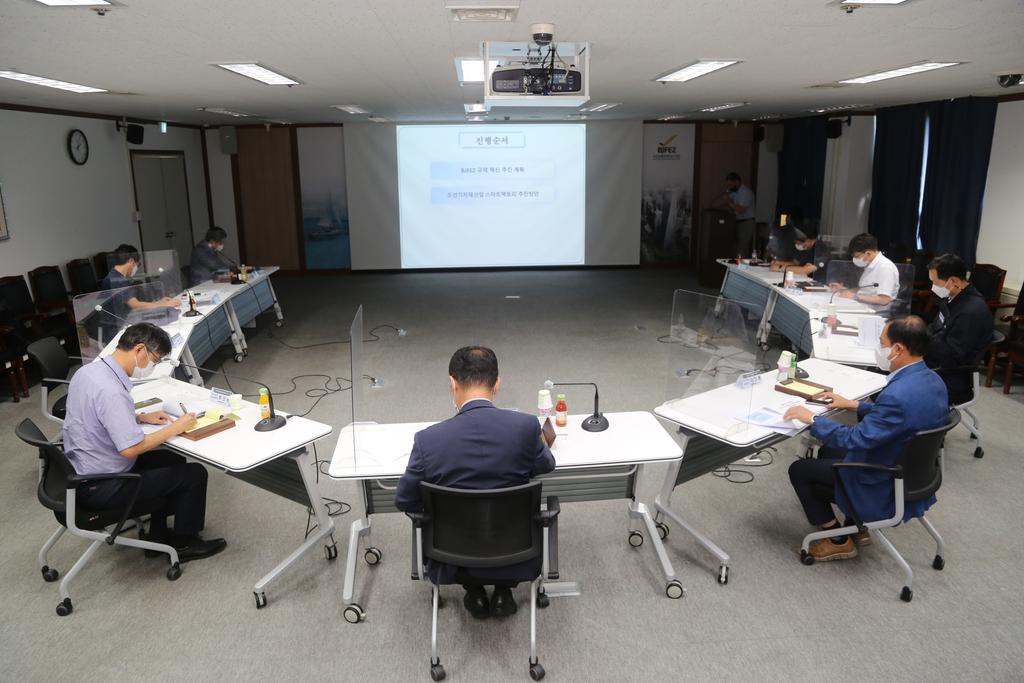 BJFEZ organizes Shipbuilding Equipment Industry-University-Research Committee Meeting
---
◆ Main Topics: Relaxation of Restriction & Management Plan for Smart Factory in BJFEZ
◆ In-depth discussion on the further development of the Shipbuilding Equipment Industry in the era of Industry 4.0
---
Busan-Jinhae Free Economic Zone (Commissioner Kim Ki-Young, BJFEZ) Authority announced that it had organized the first BJFEZ Shipbuilding Equipment Industry-University-Research Committee Meeting of the year on July 20 at the BJFEZ Authority's conference room.
BJFEZ Shipbuilding Equipment Industry-University-Research Committee was formed by a partnership agreement in September 2021, following the policy direction of the government aiming to foster KFEZs as a hub for innovative growth.
The members of the Committee are from related institutions in Shipbuilding and Marine Equipment industry, university, and research fields including...
◆ Busan Marine Equipment Association
◆ Research Institute of Medium & Small Shipbuilding
◆ Korea Research Institute of Ships and Ocean Engineering (KRISO)
◆ Gyeongnam Techno Park
◆ Korea Marine Equipment Research Institute (KOMERI)
◆ Kyungnam University Industry-University Collaboration
The Meeting was to discuss measures for Factory Smartization in the Shipbuilding Equipment, which is one of the major industries of BJFEZ, aiming to adjust to societal·structural changes toward digital-focused industrial trends due to the 4th Industrial Revolution.
In addition, it was to discover the demands of the companies for changed or relaxed restrictions which have emerged as the crucial point to current economic growth.
The BJFEZ Authority selected the Smart Transportation Device industry as one of the core strategic industries of BJFEZ. In February 2022, BJFEZ was selected to operate in the 'Free Economic Zone Innovation Ecosystem Development Project,' which is a governmental project and has been supporting related companies so far.
"Based on the expert opinions gathered from the meeting The Authority will do the best to foster BJFEZ as the global hub for business growth by consistently promoting measures for relaxed restrictions along with factory smartization of the shipbuilding equipment industry ."
Kim Ki-young, Commissioner of BJFEZ