What is Free Economic Zone (FEZ)?
FEZ, Free Economic Zone, is a specific area dedicated to providing the best environment for business and living to attract leading multinational companies and business to make Korea the business hub for Northeast Asia.
Background
Given the Korean economy, which suffered difficulties with the bitter aftermath of the 1997-1998 financial crisis and Korea is being sandwiched between China and Japan, which are the world's largest single market and the world's second largest economy, respectively.
Korea needed a catalyst to return to economic growth and stability. Against this backdrop, the Korean government began the FEZ initiative.
In this regard, the Korean government has designed six areas across the country as the Free Economic Zones to transform the nation into the financial and logistics hub of Northeast Asia, taking full advantages of world-class airports and ports, geographical location, as well as IT infrastructure to provide foreign investors and their families with an optimal business and living environment.
About Busan-Jinhae Free Economic Zone (BJFEZ)
The BJFEZ covers 51.2㎢ with a population of 243,000 by 2020. This zone is divided into 5 areas and 19 districts - New Port, International Business Town (Myeongji), High-tech & Manufacturing Area(Jisa), Mechatronics, Education & Research Area (Dudong) and Tourism & Leisure Area (Ungdong) – which will be developed in three stages by the year 2020.
Vision
To provide an optimal environment where people, capital and technologies are able to come together to create synergy effects in Northeast Asia
To become a premier logistics hub
To develop the optimal logistics base bringing together ports, airport, railways, and roads
To facilitate easier interaction of the New Port and the neighboring industries: aviation, automobile, machinery equipment, shipbuilding
To foster an efficient business environment by providing a one-stop administrative service with attractive incentives
To spearhead eco-friendly development for minimizing the impact of environmental pollution
Mission
Providing an optimal business environment with ideal living conditions to meet global standards for foreign investors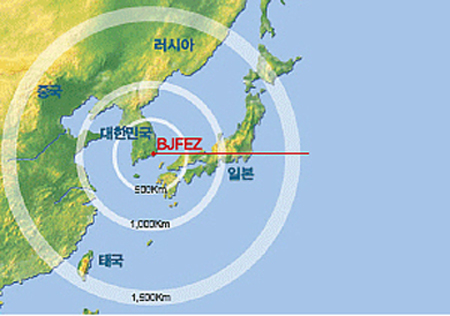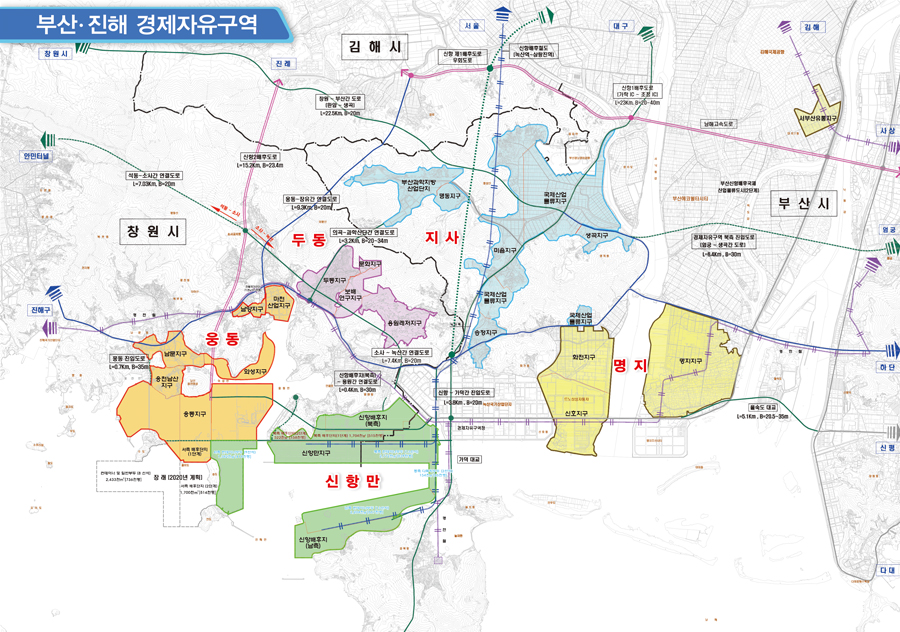 Overview of BJFEZ
Development project
Location : Busan & Changwon
Total area : 12,652acres(51.2㎢)
Period : 2003 ~ 2020
Vision : The global hub for international business and logistics
Project Overview