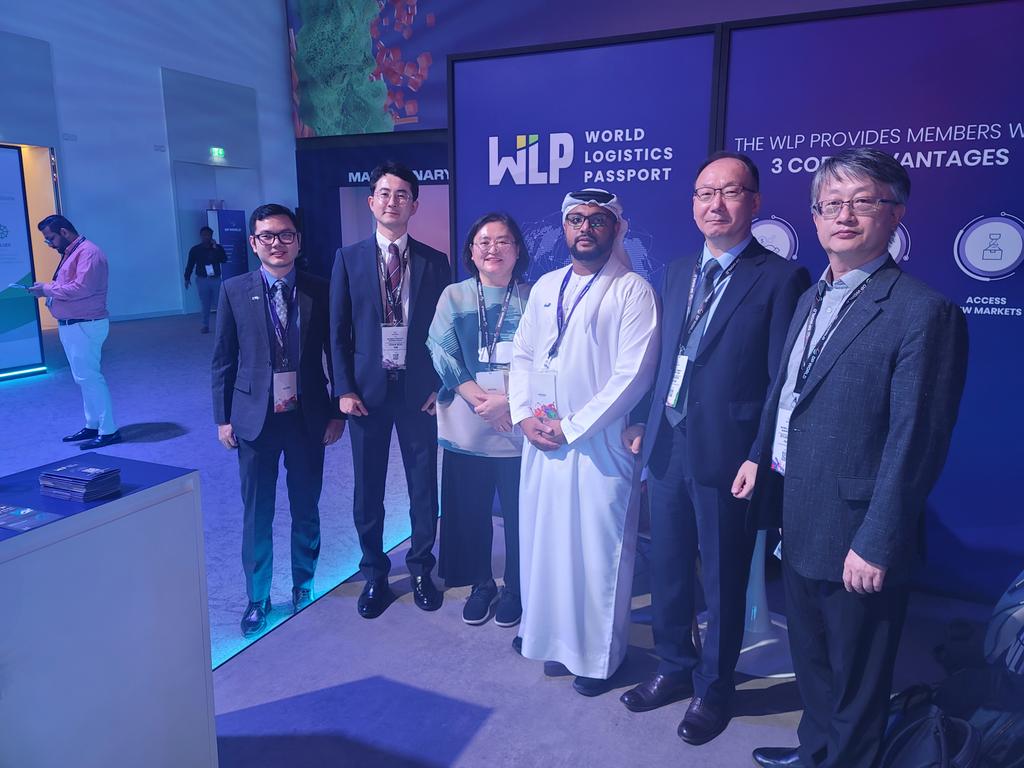 BJFEZ becomes the First Korean Partner of the World Logistics Passport
---
◆ BJFEZ joins WLP(World Logistics Passport), the first Global Logistics Loyalty Program
---
Busan-Jinhae Free Economic Zone Authority participated in the 2022 Global Freight Summit held in Dubai and conducted IR activities.
The reason for BJFEZ Authority's participation in the event was by the invitation of the DP World—the leading provider of smart logistics solutions—and there, BJFEZ Authority joined the WLP (World Logistics Passport) as the first Korean partner.
WLP was officially launched at the World Economic Forum in Davos in 2020. It is the first global logistics loyalty program. Sheikh Mohammed bin Rashid al Maktoum, the vice president, prime minister, and minister of defense of the UAE (United Arab Emirates) as well as ruler of Dubai led the foundation of WLP to revitalize the trades between new markets including Dubai, reinforce elasticity of global supply chains, and overcome trade barriers.
WLP is the first loyalty program in the world for conturies, related institutions, and logistics companies. The program is divided into three caetgories— Hub, Partner, and Member—, and four levels— White, Silver, Gold, and Platinum. Benefits and evaluation standards differ depending on the level.
---
Categories of WLP(World Logistics Passport)
• Hub — Countries
• Partner — Free Economic Zones, Customs, and Ports‧Airports Operators
• Member — Companies in the Manufacturing, Logistics and Trade sector
---
As of 2021, eleven Hubs had joined the WLP including Israel, India, Vietnam, Indonesia and Thailand. As partners, Dubai Free Zone, Dubai Customs, Dubai Airport, Thailand International Freight Union, Vietnam New Port, and DP world joined the WLP. Also major multinational companies including Samsung, LG, UPS, Sony and Johnson & Johnson are the members of WLP.
The member companies are provided with benefits including time savings during the import and export procedures, logistics costs savings and easy access to new markets.
---
Benefits of WLP(World Logistics Passport)
• Simplified Airfreight Operations
• Self-Guarantees on Customs Accounts
• Advance Cargo Information
• Deadlines Extension on Bill of Entry Amendments
• Increased Threshold for Weight Discrepancy
• Extra Free Storage Days
• Deadline Extension for Re-export Declaration ..... And more
---
A person from one of the major global logistics companies and member of WLP said, "Through the World Logistics Program, a company can save time of 32.5 days per year and logistics cost of 170 thousand dollars."
With BJFEZ joining the WLP, it is expected that our tenant companies will be able to take advantage of the WLP and save logistics costs, reduce shipping time, and expand export routes to new markets including South America and Middle East.
BJFEZ Authority