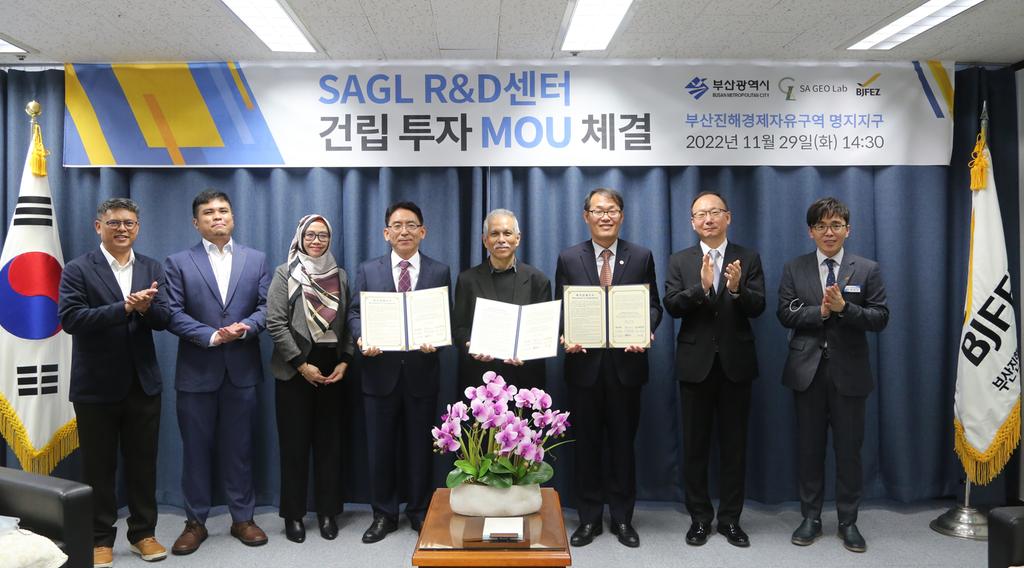 BJFEZ x SAGL(SA GeoLab International)
Singaporean Research Company 'SAGL'
Ready to Start Business in Myeongji International City
---
◆ BJFEZ Authority reinforces Myeongji International City's function as the Urban R&D Hub by attracting SAGL, Singaporean Geotechnical Analysis Laboratory
◆ SAGL to invest 3.5 million USD and create about 30 jobs
---
BJFEZ signed an MOU with SAGL(SA GeoLab International), the Singaporean Geotechnical Laboratory, to establish an R&D Center in Myeongji International City for offshore wind power generation research.

SAGL is a company that offers basic and advanced geotechnical laboratory services and does a full range of soil lab testing services.
Syed Ahmad Al-Habsyi, CEO of SAGL, visited the BJFEZ Authority office to sign the MOU and visit their investment site at Myeongji International City.
SAGL will establish an R&D Center with an investment worth 3.5 million USD and create about 30 jobs.
Aiming to be the leading soil testing laboratory in Asia and worldwide, SAGL was founded in 1988 and is currently operating two laboratories with over 50 experts in Shun Li Industrial Park, Singapore.
SAGL has obtained an ISO mark from SAC (Singapore Accreditation Council) and has conducted over 300+ research projects from the private and public sectors. Also, it has numerous clients worldwide, including South Korea, the UK, UAE, and Australia.
"Due to the nature of wind power generation projects that proceed for decades, we expect Busan will be a place for a stable business. Furthermore, we will cooperate with local companies and universities."
Syed Ahmad Al-Habsyi, CEO of SAGL
"We are pleased to welcome another excellent global R&D center in Myeongji International City. We expect SAGL to play an important role in developing future local industries and outstanding human resources."
Kim Ki-young, Commissioner of BJFEZ
BJFEZ Authority also promised to provide administrative support and emphasized on creating outstanding jobs and measures to coexist and collaborate with the local Industry-University-Research.