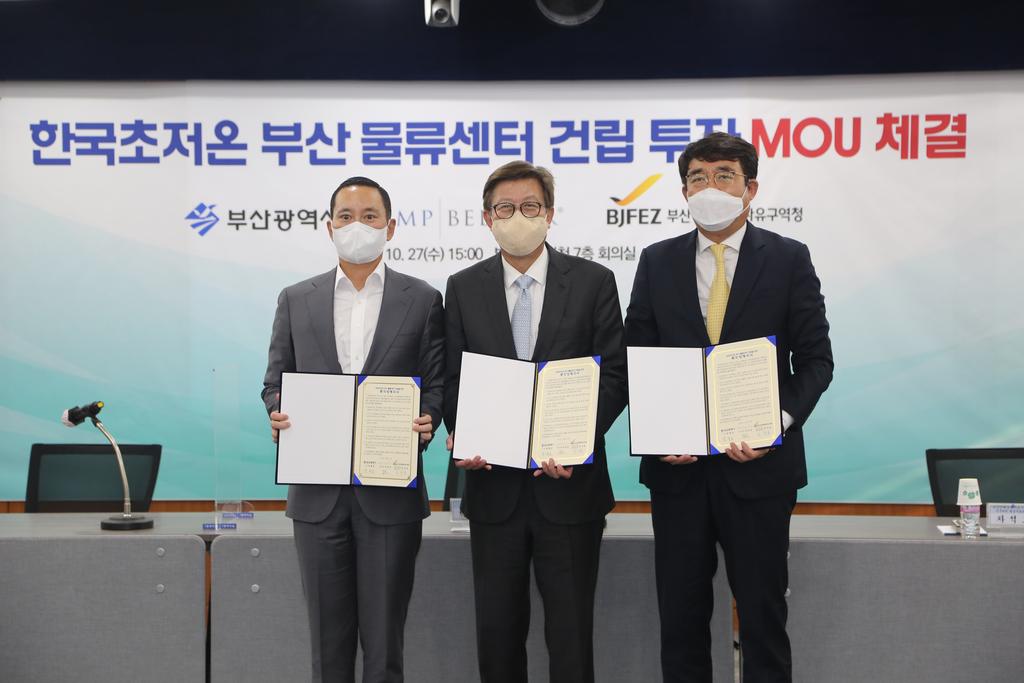 The Busan-Jinhae Free Economic Zone Authority signed an investment memorandum of understanding(MOU) with Busan City and EMP Belstar to establish the cold chain logistics center―Korea Superfreeze Busan Logistics Center―in the International Industrial Logistics City of BJFEZ.
Korea Superfreeze is a cryogenic cold chain logistics company established by EMP Belstar, which invests and manages global alternative assets.
Through this MOU, Busan City will endeavor to provide administrative support to ease EMP Belstar's investment and job creation, and the BJFEZ Authority will aid the licensing and administrative procedures related to the implementation of the investment project. EMP Belstar has agreed to actively cooperate to create jobs through investment, discover cooperative projects to develop local industries, and promote coexistence with the local community.
Korea Superfreeze Busan Logistics Center is planned to be established as a logistics center equipped with cryogenic, frozen, refrigerated, and fixed temperature-controlled storage using LNG cold heat. The state-of-the-art integrated control system is expected to bring qualitative and technological development of the cold chain logistics infrastructure by providing high-quality additional services that supplement and replace the existing freezing and refrigerating facilities.
Korea Superfreeze currently operates a cryogenic cold chain logistics center in Pyeongtaek, Gyeonggi-do. A total of approximately 250 million USD, including about 70 million USD of foreign investment, will be invested to build the Busan Logistics Center. The construction, spread on a 36,206㎡ site in the 9th district of the International Industrial Logistics City, is expected to create about 200 jobs.
Furthermore, EMP Belstar plans to sign a tenancy contract with the BJFEZ Authority, obtain the construction site through a land sale contract with Busan Metropolitan City Corporation, start construction of the logistics center in 2022, and complete it in 2024.